HiTech Financial Accounting for Commodity Brokers
---
Adding New Account Head
Adding New Account Head, Account Head Setup, Accounts Module
inasah2.bmp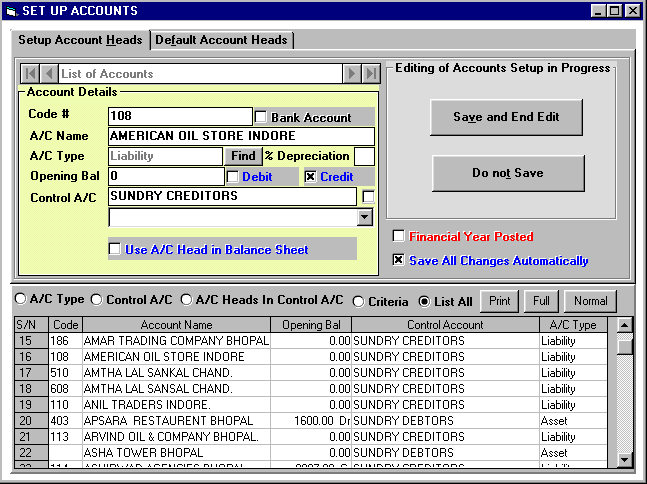 Adding New Account Head; Account Head Setup; Accounts Module - Sales Commission Software, HiTech Financial Accounting Software for Commodity Brokers, Commission Agents - Website Development, Hosting, Custom Accounting Software, Accounting software and Business Management software for Traders, Industry, Hotels, Hospitals, Supermarkets, petrol pumps, Newspapers Magazine Publishers, Automobile Dealers, Commodity Brokers etc. Free Business Software downloads, Financial Accounting Software Download, Free business software downloads freeware sharware demo. Software for Hotels, Hospitals, traders, industries, petrol pumps, medical stores, newspapers, commodity brokers.
To add new account head give Menu Command
Set up Accounts
. A window will be displayed for setting up accounts. The various details about the account head like Name, code, Control Account etc. can be typed in the text boxes which are labeled accordingly. These data fields or text boxes are bound to the
Data Control
linked to accounts setup information database. As you will click one of the four buttons on the data control you will see the text displayed in the bound text boxes change accordingly to different account head.
To add new account head press command button
New A/C
. The various data field of the account head record will become empty so that you can enter a new record. Code if entered, should be unique though it is not required.
Now you can start typing the appropriate information in the text boxes. To move from one text box / field to another use Tab and Shift Tab keys on the keyboard or use mouse.
The account name should be unique. Two same names of the account head are not allowed because the name will be used to open ledger account and all account names should be unique. You must select one of the four valid A/C Types : Asset, Liability, Income, Expenditure. To do so press command button
Find
and double click the appropriate selection in the list. Once you double click it will be entered in the field. Enter opening balance, if any and click appropriate option button
Debit
or
Credit
.
There are some more check boxes to define if the account head should be closed with final entry to P & L account or Balance sheet. Click the appropriate check box.
If you want to group some accounts under a control account then define one account head as control account for all account heads of the group. For example if you want to group Conveyance, Advertising sales commission under control account selling expenses then first create account head Selling expenses, then create other three account heads of the group and give selling expenses as their control account.
When you have finished entering the record then you can enter another record or do something else. If you move to another record or close the setup then the changes will be saved automatically.
To add another record press command button
New A/C
. To close account head setup press command button
Close
.
An attempt to close the product record or to move to new record when the text boxes are all empty (null values) will not be allowed. To come out of it move the data control to a new record and close.